The stories are handwritten in ink in notebooks and except for the two poems are not contemporaneous, but written in the late 1930's, illustrating life in Buckinghamshire villages, fifteen and twenty years before.
The youngest of three children, V.I.B. was brought up in St Andrews, Fife in a house called Wayside, (built for her father by the Scottish architect Lorimer) and educated in St. Andrews at St Katharines, (1894-1899) and St Leonards (1899-1904 senior 1904-1907), where she excelled in sport.  A good watercolourist, she studied art firstly at the Chelsea Art College and later in Florence.  She married Maurice Andrew Noel Becher in St Andrews in 1912, honeymooning in Menton.  In 1913 they joined her husband's battalion then stationed at Lucknow in India also staying during the hot weather at the hill station at Mussoorie. Her first daughter Frances Isobel was born in Lucknow on Tuesday the 16th of December 1913. Her husband a Captain in the Kings Own Scottish Borderers was killed in action at Gallipoli on April 26th 1915, attempting to bring back some of his battalion's Indian muleteers who had become isolated outside a re-formed front line. Their second daughter, Anne Violet was born on Sunday the 26th of September 1915. V.I.B.'s father, Charles Edward Todd helped her buy an house, Claremont in New Road, Tylers Green, Buckinghamshire to which she moved in 1916; in 1918 she moved to Pitlundie in the same village and in 1937 to Barlows in Frieth. From Frieth she moved between late 1941 and early 1942 to Cherry Cottage, Stokenchurch, then about 1950 to Star Cottage, Lane End and finally in 1959 she built and moved to Middle Way House, Frieth where she died. She is buried in the upper cemetery of Hambleden Parish church.
Throughout her life she worked actively for the church, the W.I. and the Red Cross. She was a fine needlewoman and examples of her work are still in use in some churches in south Buckinghamshire.  She herself told a story, not included in the notebook, of a Colour guard from a K.O.S.B. battalion in France, bringing a shell damaged Colour to her in 1917, the guard camping on Penn village green, while she repaired the torn fabric.
The Col Arthur Becher referred to in the story of the Penny Bank Slate Club, lived in Hammersley Lane, Tylers Green and was the brother of V.I.B.'s father in law – General Becher. When young, Arthur Becher had been ADC to the Duke of Connaught, (one of Queen Victoria's sons) and his wife Kate, Lady in Waiting to the Duchess. In his later years Col Becher is thought to have enjoyed the bottle (a Becher failing) and is remembered as 'a dashing old dog', fond of escorting a wealthy local lady – Editha Lancaster Rose. It may have been his residence in Tylers Green or that of V.I.B.'s second cousins the Soames, parents of Christopher and grandparents of Nicholas, who also lived there and were regular visitors, the children playing together; which brought V.I.B. from St Andrews to Buckinghamshire.
Mr Sugg, who ran the bus company mentioned in 'To London Town', prospered further, eventually buying both the manor and Lordship of Fingest.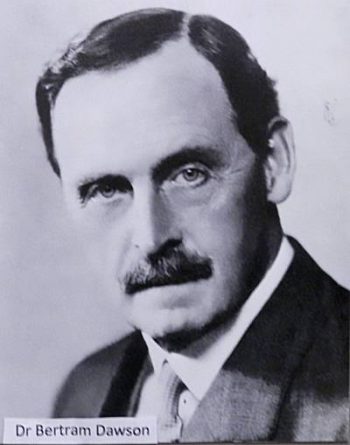 Lord Dawson of Penn, who features in the tale of 'The Bucks Enquiry', was the well known physician to King George the V, ennobled for his services to the Crown and now thought to have hastened King George's death in order to meet the deadline for the following morning's 'Times'.
Sources: M.P.A.A., A.V.B, F.I.T-W –  Anthony Ainslie, 21/1/1995