The war memorial gothic cross stands adjacent to St. Margaret's Church in the churchyard facing Hammersley Lane. The memorial is constructed of Portland Stone. An inscription and names are carved and black painted on the cross. The WW1 names are on plaques on the wall behind the memorial which are carved and lead filled.
The memorial was built by E. Harris, and was dedicated on 26th August 1920 by the Rt. Rev John Taylor-Smith, Chaplain General of Forces and unveiled by the Lord Lieutenant of Buckingham, Sir Charles Robert Wynn-Carington, 1st Marquess of Lincolnshire, whose own son, Viscount Wendover, had died in 1915 from wounds received at the 2nd Battle of Ypres.
On the cross is the inscription: "In thankful and loving memory of the Officers and Men of this village who laid down their lives in the Great War for civilization. 1914 – 1919."
Following WW2, two plaques were mounted on the front of the left and right pillars with the names of the men from Tylers Green who died in WW2.
In February 2008 the War Memorials Trust provided a grant of £360 towards the re-incising and re-painting of letters on the cross. The memorial was not cleaned as the stone had weathered to match the church behind and the community sought to retain this.
Text adapted from War Memorials Trust website.
WW2 Memorial trees on Tylers Green Common
November 11th 2022
AROUND 200 people, including some children from Tylers Green First and Middle Schools, attended a ceremony to dedicate 16 memorial trees planted to commemorate those named  on the St Margaret's Church war memorial who died on active service in the Second World War.
The ceremony immediately followed the annual Armistice Day remembrance service  and two minute silence on Friday 11 November conducted by the Rev Graham Summers and John Youers from the Hazlemere  branch of the Royal British Legion, which includes Penn and Tylers Green.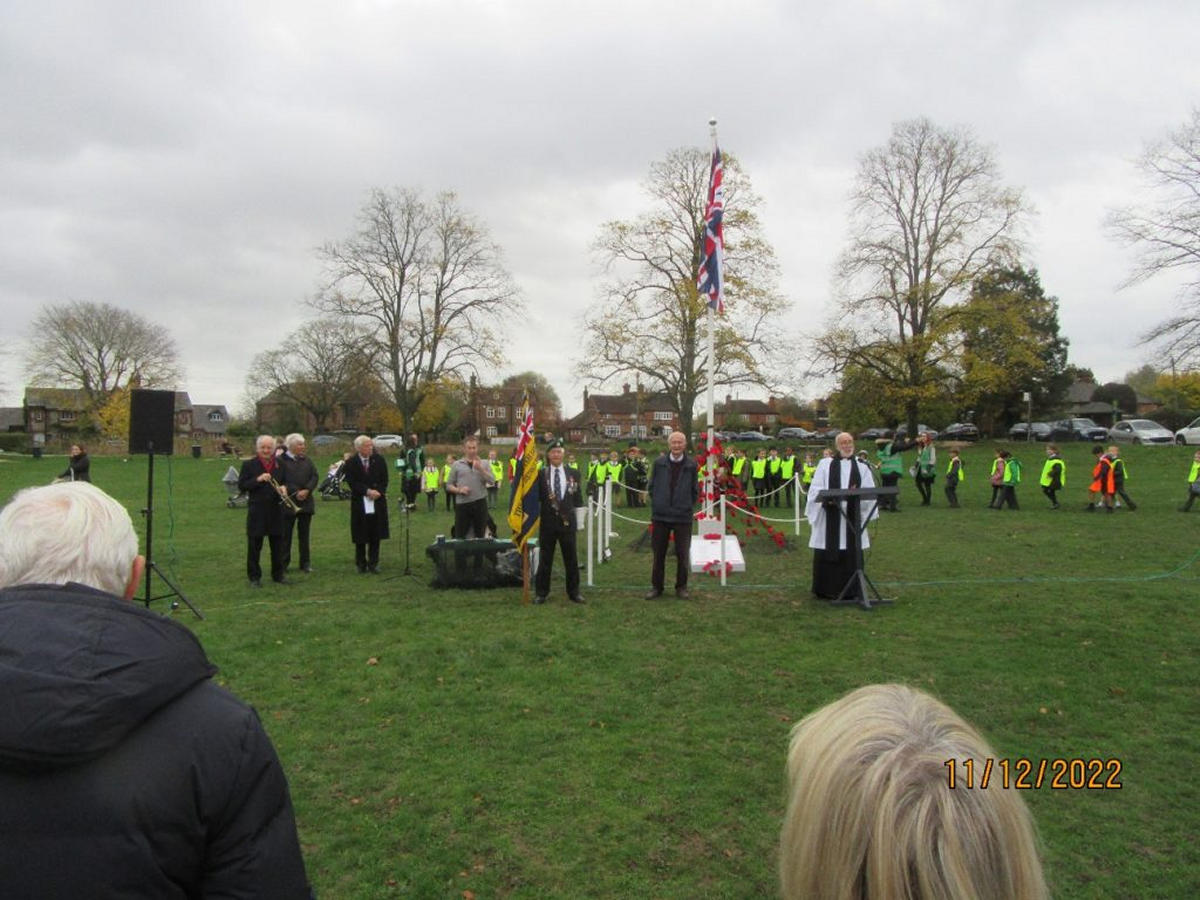 Preparing to start the Armistice Day ceremony, held for the first time on the front common. Picture: Ken Allen.
The trees  were gifted by Chepping Wycombe Parish Council, which incorporates Tylers Green within its area, and were planted in and around Tylers Green common this month. They are accompanied by a plaque and at a later stage an interpretative board will be erected highlighting locations and background.
The trees – whitebeam and rowan – join other memorial trees that have been planted in earlier years in and around the common to mark the Tylers Green fallen in the First World War. 
Earl Howe told the gathering: "It is a privilege for me to dedicate these 16 trees.  The dedication has two strands to it.  The first is a dedication to the memory of Her late Majesty Queen Elizabeth whose Platinum Jubilee, at her request, is being marked throughout the year by the planting of trees across the country as part of the Queen's Green Canopy.
"The second dedication is to the 16 men who served and died during the Second World War and whose names are commemorated on the war memorial at St Margaret's Church."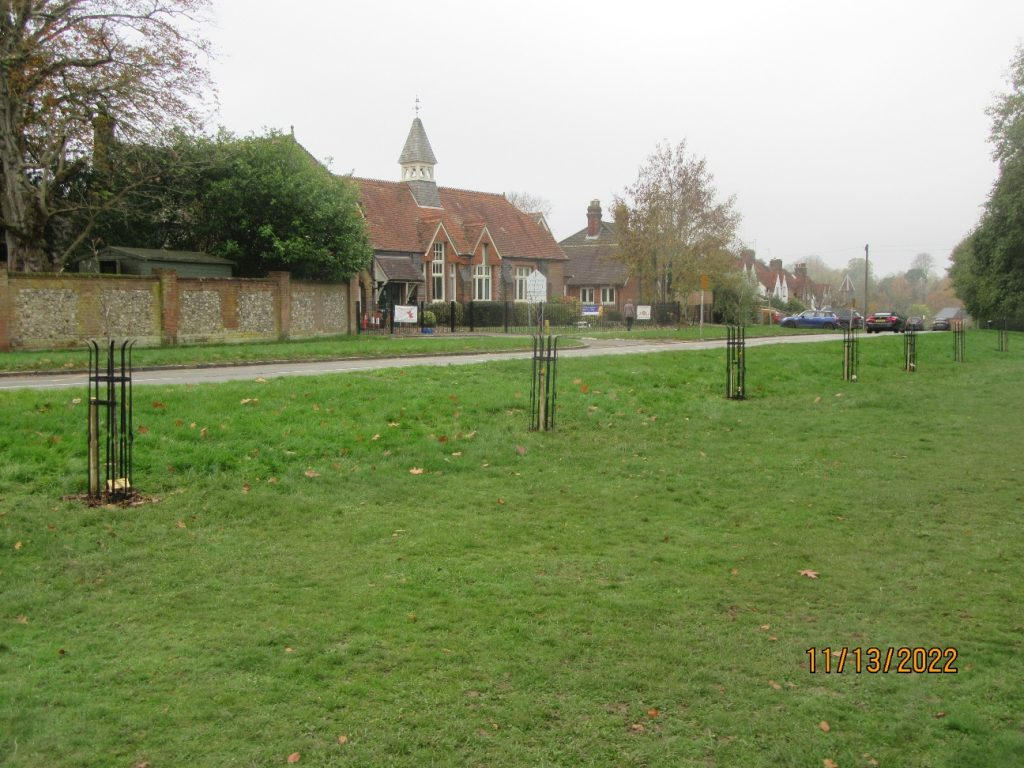 Some of the new memorial trees opposite Tylers Green First School. Picture: Ken Allen.
Cllr Katrina Wood, chairwoman of Chepping Wycombe Parish Council, thanked all those who had helped with the project and in particular Cllr Haydn Darch who instigated it and who saw it through.
After the ceremony, Cllr Darch thanked Earl Howe for the dedication; his fellow councillors for embracing the idea and funding it and the council clerk and grounds team for the practical work.
He added: "I would also like to thank Sharon Herron and Ron Saunders for their inputs and support and John Youers and the Rev Summers for agreeing to move to the front common and incorporating the dedication into this year's remembrance. Bill Sadler, David Byrne and Geoff Roberts deserve special mention for embracing so enthusiastically my request to reinstall the flagpole/sound system on the front common, and of their own volition producing and funding the display of names in front of it.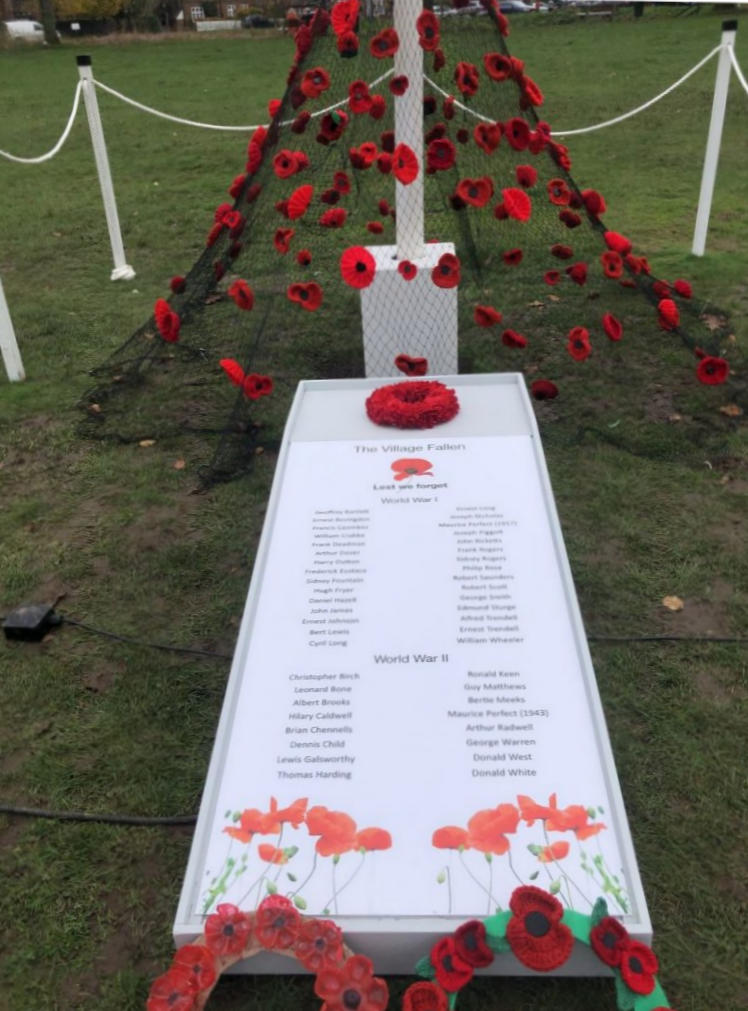 A tableau featuring names from both world wars on the Tylers Green war memorial was a centrepiece of the 11 November ceremony. It was made by volunteers at Tylers Green Village Hall.
"Lastly I would like to thank the families of Thomas Harding, Maurice Perfect and Ronald Keen for supplying photographs and giving permission for us to use them on the yet to be installed new display boards.  They attended the service and have written expressing thanks to Penn and Tylers Green for remembering and marking the ultimate sacrifice  these and the other men made.
"It is intended to continue holding the remembrance service on the front common in similar fashion rather than the back common as  in the past, joining the other important events held there throughout the year that help create the real sense of community which makes Penn and Tylers Green such a special place to live and bring up children."
First published in the Penn and Tylers Green Blog, by Peter Brown,
and reprinted in Village Voice Issue 213, Dec 2022/Jan 2023
The following men are remembered on the
St. Margaret's, Tylers Green, WW2 War Memorial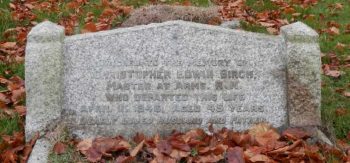 Christopher E. Birch
Master at Arms, P/M 39713,
H.M.S Berwick, Royal Navy
Died: April 11 1946, Age:45,
Berks & Bucks Joint Sanatorium, Peppard Common, Henley.
Buried in Margaret's Churchyard.
Joined navy 1929, served on HMS Victory and HMS Ark Royal.
Civilian Occupation: Rope & Twine Finisher.
One of 9 children, Parents: James and Edith Birch, Tylers Green, .
Married Vera Kathleen Sutton, July 1925.
Address 1939: "Endwood", Hazlemere Rd, Penn.
Vera died 16 September 1964, 'Arosa, 7 Hazlemere Rd.
Vera was niece of Daniell Hazell, killed at Ypres, 1915,
Christopher Birch is also remembered on his parent's grave in St Margarets churchyard.
Leonard Alfred Charles Bone,
Leading Photographer, C/MX. 58155, H.M.S Hermes, Royal Navy.
Died: April 9, 1942, Age 23, Lee-on-Solent Memorial Bay 3, Panel 6:
Leonard Bone served on HMS Hermes in the post of Leading Photographer.  From the summer of 1940 the Hermes patrolled the Indian Ocean as part of the Eastern Fleet.  On 9 April 1942 she was attacked by 70 Japanese bombers while returning to Trincomalee, Sri Lanka, and sunk with the loss of 370 men.  (War Memorials Trust)
Born: 17 August, 1918, Dover, Kent.  1939: 40 Dollis Hill, Willesden.
Parents: Leonard Hartwell Bone, Norah Maud Bone, née Russell.
They married 7th October 1915, St Michael, the Archangel, Aldershot.
Albert Brooks Lance Corporal 5393375, Hampshire Regiment, 2nd Battalion.
Died: September 5, 1944, Age 21, MONTECCHIO WAR CEMETERY II. H. 1.
Lance Corporal Albert Brooks was a member of the regular army. On 25 August 1944 the Hampshire Brigade started its assault on the Gothic Line, a line of German defences running east – west across the Italian peninsula and after 5 days they had been so successful that they were in a position to assault the Gothic Line proper. The Gothic Line was breached on 1st September and the advance continued northwards. Lance Corp. Brooks died on 5 September 1944 the day that the Brigade was relieved. War Memorials Trust
Born December 1922, Employed as a gardener, Penn.
Parents: Albert Henry Brooks and Bertha Annie Brooks, née Woodwards,
1939: Widmere Cottage, Tylers Green.
Alfred Brooks is also named on the Holy Trinity, Penn WW2 War Memorial.
Hilary Charles Caldwell Squadron Leader, 103013,
Royal Air Force Volunteer Reserve, Assistant Air Attache to Madrid.
Died: May 18, 1944, Age 43, Flying accident over Spain,
Only British WW2 casualty in Madrid British Cemetery
Born c1900, Argentina. Parents: Vere and Louisa Mary Caldwell.
Married Rona Vivian Spencer Shaw, June 1942, Wycombe Dist. (St. Margaret's?)
"Silverthorne", Grenfell Rd. Beaconsfield.  One child, Susan Caldwell.
Memorial Service held 1st June, 1944, St Margaret's, Tylers Green.
Alfred Brian Spencer Chennells, Major, 33326,
100 Heavy Anti-Aircraft Regiment, Royal Artillery.
Died: May 4, 1942, Age 37, St. Margaret's Churchyard. 
Parents: Revd. Dr. Alfred William Chennels & Margaret D.E Chennels.
Dr. Chennels was a retired clergyman who assisted at St. Margaret's
(see Mrs Bechers Diary for unflattering comments!).
Born 24 January 1905, Plymouth, Devon.
1939: Hammersley, Hammersley Lane, Tylers Green
Married Annie Maud Bull at Rotherfield Greys, Oxon, 5th January 1940.
One child, Susan Dorothea Spencer Chennels, b 1942.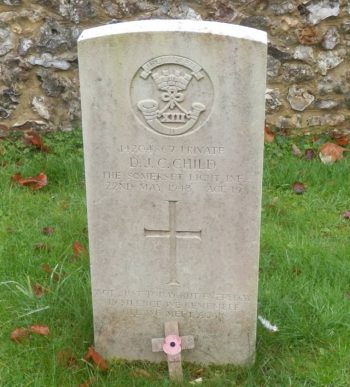 Dennis John Charles Child, Private, 14204867,
Somerset Light Infantry, 4th Battalion.
Died: May 22, 1943, Age 19, Thanet Kent, Accidentally drowned crossing a river in course of manoeuvres.
Buried: St. Margaret's Churchyard.
Employed as Butchers assistant to Mr A. Sturgess
Born: 13th June 1923, Wycombe Dist. 1 of 3 children
Parents: Charles Andrew Child & Agnes Beatrix Child,
1939: "Pentre", Hazlemere Road, Penn.
Lewis Thomas Galsworthy, Driver, T/181578,
197 Field Ambulance, Royal Army Service Corps,
Reported missing March 1942. Confirmed POW April 1943.
Died: October 1, 1943, Age 30, Kanchanaburi War Cemetery 2. D. 64. Thailand.
Born 4th May 1913 Bromley Kent.
Parents: Frederick Thomas Galsworthy & Annie Galsworthy.
Address 1939: "Widmore" Tylers Green.
Heavy Haulage Driver and Air raid warden.
1941 Married Ethel Flossie Piggott, Wycombe Reg District.
1941 "Fir Tree Cottage" Penn.
197 Field Ambulance was part of 18th Division which left Avonmouth at the end of October 1941 heading for the Middle East. They proceeded to Halifax, Nova Scotia, and then to Trinidad to refuel, before having 4 days shore leave at Cape Town. During this time the Japanese attacked Pearl Harbour and invaded Malaya; the troops were redirected to Bombay, where they went ashore for two weeks, before re-embarking and arriving in Singapore in January 1942.
The Japanese landed on Singapore on 8th February and the island was unconditionally surrendered by the Allied commanders on 15th February.
All remaining Allied soldiers and civilians became prisoners of war;
members 197 Field Ambulances were among those marched to Changi prison.
Men from this prisoner and other smaller camps were used as forced labour
to build the Burma-Siam railway. Driver Galsworthy died during this work
in October 1943 after being a prisoner of war for 20 months.
War Memorials Trust

Thomas Alfred Harding, Lance Corporal,1888894,
Royal Engineers, 70 Field Company. Enlisted May 1940.
Died 28th August 1944, Age 31. Accidentally drowned.
Buried St Pierre–Du–Vauvray Communal Cemetery, Grave 20.
Born 28th May 1913, Parents: Alfred Harding & Elizabeth Mary Harding,
Cholesbury Cottage, Hazlemere Road, Penn.
Married Kathleen Rose Meeks, April 1938, (born 13th March 1914),
Lived at Kathston, West Avenue, Hazlemere Road, Penn.
Painter and Decorator, A Harding & Son, Hazlemere Road Penn.
(Thanks to Brian Harding and Ken Allen, for additional information)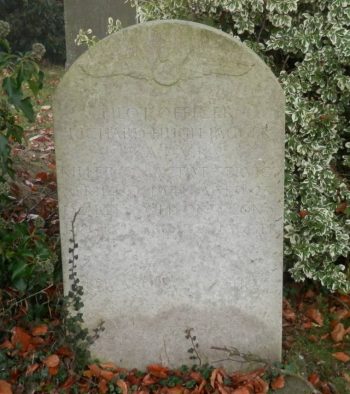 Richard Hugh Jagger Pilot Officer, 61220,
Royal Air Force Volunteer Reserve
Died: April 14, 1941, Age: 25, following air to air firing practice in Spitfire No.K9935, in a crash in Northumberland. (documented in the book "Almost Forgotten" by Chris Harris).
Civilian Occupation: Bank Official.
Gained Pilot's Licence 20th May 1939
He is buried in St. Margaret's Churchyard next to his uncle Arthur Jagger.  He is not named on St. Margarets War memorial, but his name is on Beaconsfield War Memorial.
Parents: the late Lt.Col. Hugh C Jagger And Mrs. H.C. Jagger,
'Russett', Woodside Avenue,Beaconsfield.
His uncle Arthur Jagger and his wife and unmarried sisters, lived in Tylers Green, at Lost Cottage and St. Anthonys Cottage both opposite The Horse & Jockey. (Thanks to Ron Saunders for the additional information).
Ronald Alexander Keen, Driver, 236165, Royal Army Service Corps.
Born 4th August 1907, Died 12th June 1942, age 34.
Buried Delhi War Cemetery India, 4. G. 1.
Pre-war occupation: Wood Polisher, Owen Haines & Son, Jubilee Rd. HW.
Parents: 3rd son of William Keen & Elsie Keen, of Holmer Green.
Wife: Married Clara Harding, September 1935. Daughter Jennifer, Born 1940.
Address 1939: "Homerton" West Avenue Penn.
Address 1942: "Cholesbury", Hazlemere Road, Penn.
Ronald was a member of Holmer Green Orchestra
and Penn PSA ('Pleasant Sunday Afternoon') Orchestra.
Attended Penn Free Methodist Church.
Clara Harding was the sister of Thomas Alfred Harding shown above,
Ronald Keen and Thomas Harding were brothers -in-law.
Guy Meredith Myles Mathews Lieutenant, 129137,
5th Royal Inniskilling Dragoon Guards, Royal Armoured Corps.
Seconded to Staffordshire Yeomanry, Royal Armoured Corps.
Died: January 15, 1943, Age 27, Alamein Memorial Column 15.
Address 1939: "Shields", St. John's Road, Tylers Green.
Born 1915, Hampstead. Twin sisters, Rosamund & Alison.
Parents: Charles Myles Mathews, Solicitor, & Edith A Mathews, Penn.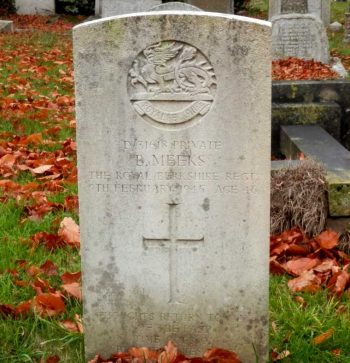 Bertie Meeks Private, D/31618,
Royal Berkshire Rgt. 8th Home Defence Battalion.
Died: February 9, 1945, Age 46, Oxford.
Civilian Occupation: French Polisher.
Buried: St. Margaret's Churchyard.
Parents:  William Meeks & Jane Meeks, Winchmore Hill.
Md. Florence Marjorie May Collins, Sept. 1925.
One daughter, Doreen Meeks.
Address 1939: "Alma Cottage", Tylers Green Common.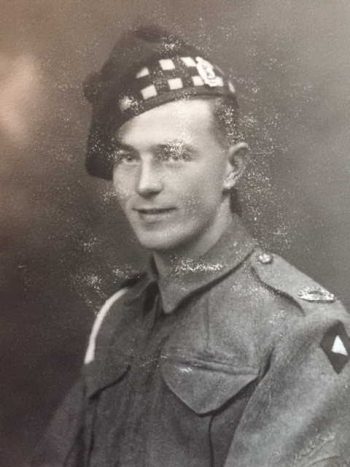 Maurice Perfect Gunner, 1140710,
80th (The Scottish Horse) Medium Regiment,
Royal Artillery, Died: November 3, 1943, Age 21,
Sangro River War Cemetery XV. E. 33.
Parents: Frederick & Eva Perfect.
Md. Dora M Cooper, April 1942.
Two of the men commemorated at St. Margarets died as the Allies fought their way up the Italian peninsula, Maurice Perfect and Albert Brooks.
Gunner Maurice Perfect was a member of the 80th (The Scottish Horse) Medium Regiment and landed at Taranto on 9th September 1943. His regiment fought up the Adriatic coast of Italy, breaking the Viktor/Volturno Line defences on 6th October. After this they stopped at the Trigno River to regroup and it was not for nearly a month (2nd November) that they attacked the Germans across the river. The fighting was fierce, and Gunner Perfect was killed on 3rd November 1943. However, on that same day the British reached the town of San Salvo and the German commander decided to withdraw to the next German defensive line.  War Memorials Trust
Maurice was named after his uncle Maurice who died at Passchendale, 1917.
His father Frederick served in the Royal Field Artillery, in WW1.

Arthur Leonard Radwell Private, 5349139,
Royal Berkshire Regiment, 10th Battalion.
Died: July 27, 1944, Age 20,
Shot whilst trying to escape from Ostheim POW Camp.
Buried: Durnbach War Cemetery 3. D. 16. Bayern, Germany.
Parents: Lydia and Ralph Radwell, Chimney Sweep & Postman.
1939: "Yonder", St John's Road, Tylers Green.
Married Minnie Ivy Puddifoot, March 1942, High Wycombe.
George Alfred Warren Trooper, 329519,
'C' Squadron, 17th/21st Lancers, Royal Armoured Corps,
(17th/21st Lancers known as "Death or Glory Boys")
Died: January 18, 1943, Age 21,
Medjez-El-Bab War Cemetery 16. H. 13. Tunisia.
Civilian Occupation: Butcher's Assistant.
Parents: John T Warren & Elsie Warren, Penn.
1939: "Farview", Hammersley Lane.
Trooper George Warren of the Royal Armoured Corps died in January 1943 during fighting in Tunisia, in the last phase of the "back and forth" fighting in the north African desert; four months later the Allies were victorious here.
War Memorials Trust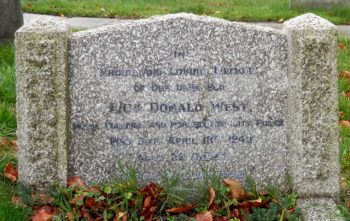 Donald Harry West
Lance Corporal, PO/X 116165, Royal Marines.
1939: Joined Portsmouth City Police,  transferred to Royal Marines.
Accidentally killed, Devon, April 18, 1943,  Age 22.
Buried St. Margaret's Churchyard.
Born: September 1920, Wycombe District.
Attended St. David's College, High Wycombe.
Parents: Edward J West & Mrs. E.J. West, Penn.
His father Edward West served in Machine gun Corps, in WW1.

Alfred Donald White Lance Serjeant, 5985876,
2nd (Airborne) Bn., Oxford & Bucks Light Infantry.
Died: 7th June 1944, Age: 24.  Bayeux War Cemetery X. K. 22.
Parents: Only son of Alfred & Margaret (Maggie) White,
Address 1939: "Old Park", Hammersley Lane.
His unit were among the first Allied Forces to land on D-Day
Probably died in the battle for Pegasus Bridge
Basic Information sourced from Commonwealth War Graves Commission website, with additional information from War Memorials Trust website, and Ron Saunders.