The passage of the years has brought this week an event of interest to people in Penn and the surrounding district, and indeed to those of a far wider area. Tuesday last, July 25th, was the fiftieth anniversary of the marriage of Sir Philip Frederick and Lady Rose, and though the celebration of the day was shorn of festive incidents which would have marked it in normal times, it was nevertheless one worthy of special record. In a time of peace one can be certain that the hospitable gates of Rayners would have been thrown open to a large assembly of relatives, friends, and neighbours. We may be quite sure, too, that on such an occasion there would have been a notable demonstration of the best of all tests of character – the esteem of the people among which one dwells. But the shadow of War broods over the all the incidents of life and over all the homes of the land, mansion and cottage alike. Thoughts have turned from Rayners to Germany, where Captain P. Vivian Rose, the eldest son, is a prisoner of war, grievously maimed; and to France, where the second son is fighting. And within the last few days has come sad news that deepens the gloom – that Lieut.-Colonel Henderson, husband of Sir Philips eldest daughter, has made the supreme sacrifice for King and country. Under these circumstances anything in the nature of a fete was out of the question. The day went by quietly, with no outward signs of recognition – though messages of affection from many quarters showed that the anniversary was not forgotten.
The ceremony which formed the starting point of half a century's happy married life was celebrated at St. George's, Hanover-square, where, (as the repetition of the formal announcement to be found in another column sets out) there entered into the "holy estate" "Philip Frederick, eldest son of Philip Rose of Rutland Gate and Rayners, Penn, Bucks" and "Rose Annie, daughter of the late Rev. William W. Pym, Rector of Willian, Herts." The bridegroom, then in his 23rd year, was a scion of a well-known local family. The name of Rose has been associated with High Wycombe for some two hundred years; Thomas Rose (the present Sir Philip's great-great-grandfather), who was born at Thame in 1701, having settled at Wycombe, where he and his successors practiced the profession of medicine down to a comparatively recent date. They were prominent in local life and several members of the family filled the office of Mayor of the Borough. Sir Philip Rose, the first Baronet (the title was created in 1874) entered the law, and his successful career as a member of the eminent London firm of Baxter, Rose and Norton is well-known. They were pioneers in railway promotion on the legal side, in which special branch of the profession their name was a household word. They were the Parliamentary solicitors for the Bill of the Great Northern Railway in 1846 and were connected with the Great Eastern and many smaller lines now swallowed up by amalgamation with the larger trunk systems. The elder Sir Philip was closely associated with the late Lord Beaconsfield, and was one of the executors of the will of the famous statesman.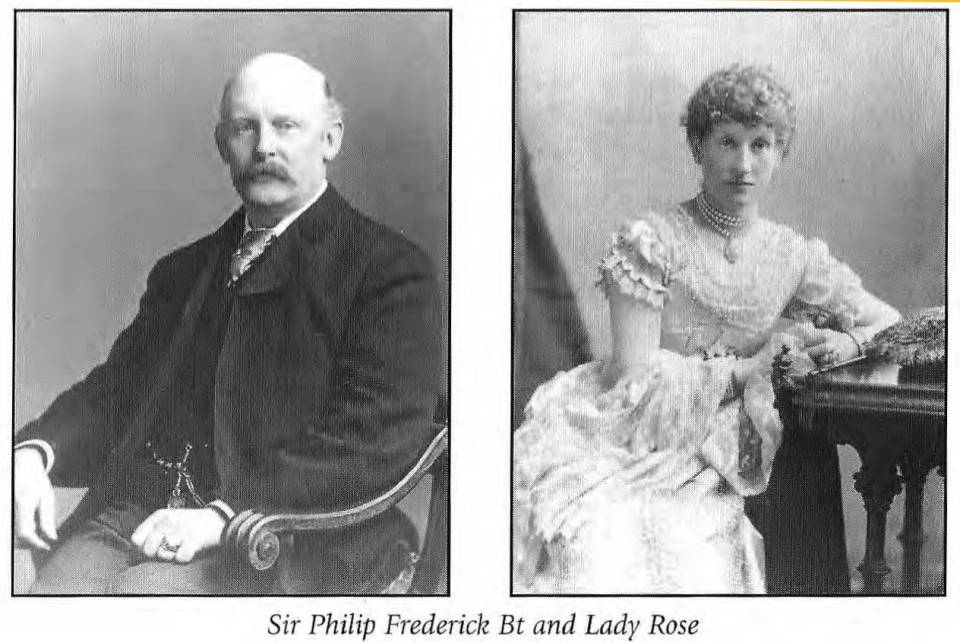 Sir Philip Frederick Rose, the present Baronet, was born on November 4th, 1843, and succeeded to the Baronetcy in 1883. He was educated at Harrow, and in 1860 went straight from school into the office of his father's firm. He began his initiation into the legal technicalities of railway promotion at once; and it is an interesting local reminiscence that in 1861 he prepared the Parliamentary Reference for the Bill for the Extension of the Wycombe Railway (then open to Thame) from Thame to Oxford, and from Risborough to Aylesbury. In 1866, shortly before his marriage, he became a partner in the firm. With the traditions of Baxter, Rose, and Norton behind him, and his own work in Parliamentary Committee Rooms it was natural that Sir Philip's interest in railway matters should have been keen and comprehensive. In 1867 he became connected with the Brighton Company, for which he continued to act until his retirement from professional life in 1908, when he was elected to the Board of Directors. Since that date he has by no means been an idle man. In addition to his Brighton Railway Directorship, he has for many years been on the London Board of the Life Association of Scotland and on the directorate of several other large financial Companies. He has, however, had sufficient leisure to enable him to take a prominent part in the affairs of his county, of which he was High Sheriff in 1898. He is a member of the Standing Joint Committee, and Chairman of the Wycombe Bench of Magistrates. In the political sphere he has been a notable figure on the Conservative side, being Chairman of the South Bucks Conservative and Unionist Association. Though holding strongly to his opinions, he has always been respected by his opponents as a fair and honourable fighter; and the present truce during the War had his hearty countenance and support.
Lady Rose is a daughter, by his second wife, of the late Rev. Wm. W. Pym, for many years Rector of Willian, Herts, and a grand-daughter of Admiral James Noble, who had an eventful career in the Navy, serving under Lord Nelson in the Agamemnon and several other ships during the wars with France and Spain in the last years of the 18th Century. He was severely wounded on several occasions, and for many months was a prisoner of war in France, having been captured by Napoleon when sent by Lord Nelson to the Austrian General with dispatches. Through her grandfather, Lady Rose is descended from a French ancestress, Mademoiselle de Joncourt, a Huguenot lady driven from France by the Revocation of the Edict of Nantes. The wheels of time certainly bring about curious changes in their revolution, for 120 years ago her grandfather, fighting against the French,  was made prisoner by Napoleon, and now her eldest son, fighting with and for the French, is a prisoner in the hands of the Huns.
Sir Philip and Lady Rose have had eight children, five of whom survive – three daughters, all married, and two sons. Their eldest son, Captain P. V. Rose, who followed his father as legal advisor of the Brighton Railway company, joined the Army at the outbreak of the War as Staff Captain of the 63rd Brigade, was severely wounded at Loos last September, losing his left arm, and is still a prisoner of War in a Hospital at Aix-la-Chapelle. Their second son is a Lieut. In the R.E. and is serving in France.
It only remains for us to give expression to the hope which we sure is entertained by all who know them – that Sir Philip and Lady Rose may continue in health and strength till the day of the Diamond Wedding dawns.  Bucks Free Press 28/07/1916
Footnotes:
Death of Sir Philip: just 3 years afterwards 23rd October 1919.
The last years of Sir Philip's life were marked by considerable tragedy.
His oldest son Vivian, a  son-in-law and a grandson were all killed in the First World War.  Vivian Rose, though over 45 years old had volunteered. As noted above, he was severely injured in battle at Loos.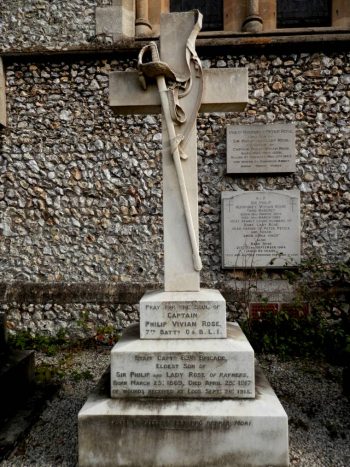 (Philip) Vivian ROSE, Captain, Oxford & Bucks Light Infantry, 7th Battalion.
Age: 48, Died: 25 Apr 1917, Taken Prisoner of War, Died Military Orthopaedic Hospital, Shepherd Bush, of wounds received at Loos, 26th September 1915.
He is buried in the Family vault, outside the West end of St. Margaret's church.
He was Born: 25 Mar 1869, South Kensington, London. Pre-war occupation: Solicitor.  he was married to Maud Winifred Rose née Gillian, Md. 1899, 5 Roland Gardens, S Kensington.

Lieut–Colonel Albert Norman Henderson, Killed in Action.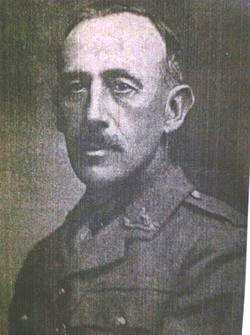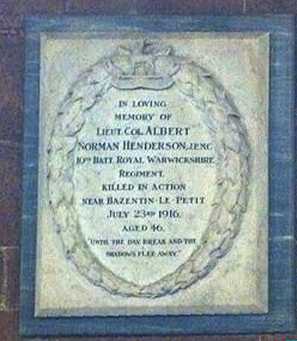 We much regret to record that Lieut. -Col. Albert Norman Henderson, son-in-law of Sir Philip and Lady Rose, has been killed in action (23rd July 1916, the first day of the Battle of Poiziers). His regiment was the 10th Battalion, Royal Warwickshire, in which, until about two months ago, he held a commission as Captain. He then was promoted to Major, and when in the great advance his Colonel was wounded, he became provisional commanding officer. This was confirmed by the War Office very recently, carrying with it the rank of Lieut. – Colonel and definite command of the Regiment. Now comes the sad news that he has fallen. Lieut. – Colonel Henderson won the Military Cross some months ago. The gallant soldier, who was the youngest son of the late Mr William Henderson of Irvine, N.B., married Miss Mary Gertrude Rose, eldest daughter of Sir Philip F. and Lady Rose, in February 1895. There are no children.  Bucks Free Press 28/07/1916. There are memorials to Col. Norman Henderson in St. Edith's Church, Monks Kirby, Rugby, Warwickshire. and Irvine Old Parish Churchyard, Irvine, North Ayrshire, Scotland.  He is commemorated on the Thiepval Memorial, Pier and Face 9 A 9 B and 10 B, France. His wife Mary's address was given as Little Meadow, Knotty Green, Beaconsfield.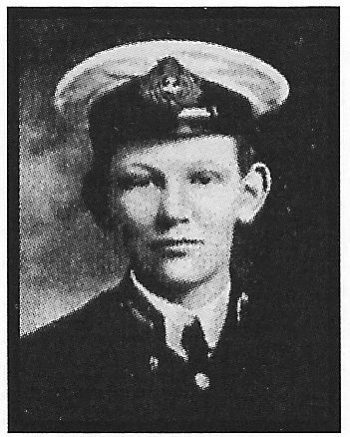 Geoffrey Edward Rose BARTLETT, Midshipman,
Royal Naval Reserve HMS Bulwark, Age 19,
Died 26 Nov 1914, as a result of a large explosion on HMS Bulwark, whilst loading ammunition.  Buried: Portsmouth Naval Memorial, Hants, Refce. 6. Born: c1895, S Kensington, London.
Parents: Edward Noel Napier Bartlett J.P. & Dorothy Bartlett, née Rose, second daughter of Sir Philip Rose of Rayners.
4 Tenby Mansions, Nottingham St, London, W1,
late of St Margaret's Cottage, School Road, Tylers Green.