For some while it has been a matter of concern, that there existed little in the way of a pictorial archive for St. Margaret's, so the Revd. Mike Bisset was delighted to receive in November last year, the photo below, together with the names, from a Julia Pennbridge who resides in California. She came across it in her loft.
The picture dates from the early to mid-1920s and was taken outside the porch, which had no external doors, these not being fitted until 1935. Dominating the picture is the earnest looking Revd Gerald Hayward. He had been Vicar since the death of his predecessor, the Revd Ashley Spencer, in 1918 and was to be only the second incumbent in nearly 70 years. He wears two medals, from when he was a wartime chaplain, the Victory Medal and the British War Medal.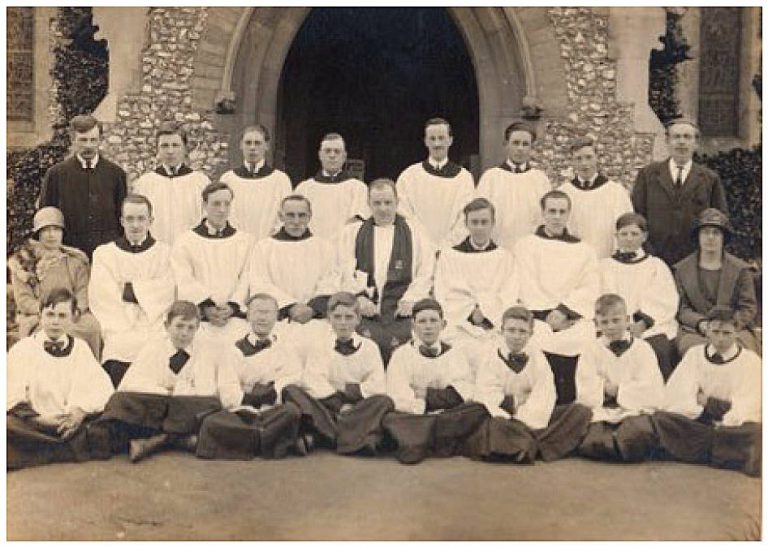 Back Row (L to R) Reg Adlum (Verger), Jack Winter, Fred Hawes, Burt Wimble, John Gulliver, Robert Barnes, Jack Gravestock, Tom Burrows (Bell Ringer).
Middle Row (L to R) Gladys Small (Organist), Charlie Small, Harry Holmes, ? Tiffin,
Gerald Hayward (Vicar), Burt Rigwell, Arthur Lacey, Chris Long, Miss Rignell.
Front Row (L to R) Cyril Chivers, Fred Bacheur, Norman Wright, John Galsworthy,
Keith Barnes, Eric Gravestock, Jack Chivers, Maurice Gravestock.
With nearly 30 people pictured space only permits a small potted history of some of the people present. On the left in the middle row are married couple, Gladys & Charlie Small who had married in 1925, (this helps to date the photograph). Charlie who had been born in Aylesbury and later lived in "Woodside", Tylers Green had served in the Great War with The Northamptonshire Regt. Gladys had been organist since 1918.
The two Chivers bothers Cyril and Eustace "Jack" were the sons of William and Rose Chivers from Beacon Hill. Cyril died in 1989 and Eustace J in 1957 whilst they were living at "Old Orchard" West Avenue. Another set of brothers shown are Robert and Keith Barnes, the sons of William and Janet Barnes. Young Chris Long, in the 2nd row, was the nephew of Ernest Long who was killed just two weeks before the Armistice in 1918.
Next to him is Arthur Lacey, son of the Tylers Green chimney sweep. Some of the names have not travelled well, for example in the middle row sits Lambert Rignall (not Burt Rigwell) from Hazlemere Road and at the end of the line sits his older sister, Sarah Elizabeth Rignall.
Harry Holmes resided at "Sunnyside", Kingswood Road which he shared for a while with his in-laws William and Alice Tiffin.
Returning to the back row we find Albert Whimble from Richmond Surrey, he lodged for a time with Miss Oakley at Laurel Cottage, before seeing service in the Royal Flying Corps in WW1. Perhaps the best known is Tom (not Bill) Burrows extreme right back row. Tom was blind, but this did not stop him from tending the oil-lamp at St. Margaret's as well as ringing the bells. He also weaved wicker baskets from his workshop in Beacon Hill. Three Gravestock boys are also pictured, Jack and Maurice were the sons of Albert & Zillah and Eric, probably their cousin, the son of Horace and Emily. Standing next to the Verger, Jack Winter is the son of John Winter, the bailiff at Gomms Farm.
So we are left with Fred Hawes, John Gulliver, Fred Bacheur, who may be the son of Col. Arthur W Bercher who lived in Hammersley Lane in the 1920's, Norman Wright and John Galsworthy. There was a Galsworthy family in the village at the time but not with a son John. The nearest I could get was Lewis Thomas Galsworthy who died in 1943 in Burma in a Japanese POW camp. His name now appears on the War memorial.
And finally, the Verger, Reg Adlum. The Parish Office does not hold a record of past
Vergers so if anybody can identify Mr Adlum, please let me know.
Ron Saunders , March 2018