ASK THE VV HISTORIANS
The VV 'Ask the Historians' were approached by the great grand-daughter of Henry Cakebread the former Head Gardener of Rayners) who was looking to learn more about her great grandfather.
' … .I would like to know more about Rayners estate. My great-great-grandfather Henry Cakebread worked as a gardener on the estate circa 1881 and was Estate Steward of Rayners and lived in Rayners Lodge in 1901. I am trying to find as much information as I can …..
Henry Cakebread (1836-1926)
Study any list of names from 120 years ago containing the men who made Ty1ers Green thrive, and you will be sure to see that of Henry Cakebread, Churchwarden and Estate Steward to Sir Philip Rose of Rayners.  Unlike many of his contemporaries Henry was not Bucks born nor were any of his seven children born or baptized within the County.
Henry was born 30th Jan 1836 at a time when Viscount Melbourne was Prime Minister and William IV still on the throne, in Hatfield Broad Oak Essex (not to be confused with the town of Hatfield in Hertfordshire). Hatfield Broad Oak stands to-day adjacent to Stansted Airport.  Little is known of his early life except that his family worked on the land in rural Essex.  Drawn to South London in the 1850's and residing in Coopers Row Brixton Hill and working as a gardener, a trade he was to follow for the rest of his life, he married Mary Ann Maria Livermore from Teddington on Thursday 15th July 1858 at Christ Church Streatham. Three years later he was domiciled at 2 Champion Terrace Lambeth now with the first of his children, James born May 1859 in Clapham and Elizabeth following in 1860 in Brixton.
By 1871 he had moved to the more rural surroundings of Ham in Surrey, maybe he worked at Ham House, with his family nearly complete, four more children having been born in the preceding decade. Henry in 1862, Charles in 1864 Emily in 1867 and Edith in July 1868. At some point in the next ten years, he made the move which was to shape the remaining years of his life. In 1881 census at the age of 45 he and his wife and two of his children are recorded in "The Lodge to Rayners Tylers Green Chepping Wycombe," gardener to Sir Philip Rose.
Lucy his seventh and last child had arrived in 1875 like her two older sisters Emily and Edith she had been born when the family were living in Ham.  His older children had already married and moved on by the time the move to Bucks occurred, James had married Emily Eliza Adams in June 1878 in St. Anne's Westminster and was working as a plumber in Deptford, he died in 1913 still a plumber and probably in the employ of the London Brighton & South Coast Railway Co. They had 6 children.  His second child, Elizabeth Mary never married and ended her days in Pound Hill Witchampton, Dorset, where she had been the village schoolmistress. She was just 59 when she died in the Church Street Surgical Home in Bath.
In the 1860's Henry & Mary had spent some time living and working in Tupsley Herefordshire which is where his next two sons were born, Henry in 1862 and Charles in 1864. We lose sight of Henry junior after the 1881 Census when he was living in Tulse Hill South London and working as a railway clerk, he does not appear on any later census nor is there any trace of a marriage or death.
His younger brother Charles by comparison travelled extensively in the British Isles, after marrying Elizabeth Woodyatt in Chorlton Lancashire in the summer of 1892, they lived in Edinburgh in 190 I and moved to Withington Manchester a decade later, they spent World War 2 in Urmston Lancashire, he died in April 1957 aged 93, they had no children and his whole working career like his father was spent as a gardener.
Monday 18th October 1897 must have been a memorable day for St. Margaret's, Tylers Green as two of Henrys daughters Emily & Edith Harriett married two brothers Frederick Henry & Herbert Frank Tester, they were both grocers from Kent & Sussex respectively which is where the Cakebread daughters later made their home. It is worth recording that a witness a both weddings was Rose Annie Rose, Sir Philip's wife.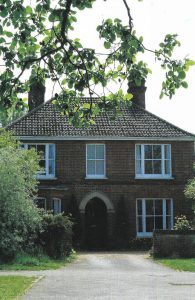 By the turn of the 20th Century, he is still living in Rayners Lodge but now bearing the job title Estate Steward and indeed a man of some standing in the local community. Of his children only Lucy now aged 26 remained at home. She along with her father involved themselves in the community notably the Tylers Green Sports Day she on the organising committee and he as a judge. Sir Philip thought so highly of him that he built a house in the centre of the village which still stands to-day, to the right hand side of the First School, when built it was known as The Hawthorns, to-day it carries the name St. Enodoc (The church in Cornwall where John Betjeman is buried).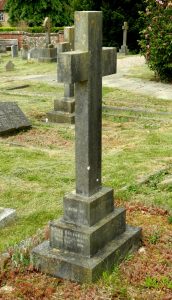 January 1926 saw the death of his youngest child Lucy Maria in the Wycombe War Memorial Hospital aged of just 56.  Henry followed her later the same year dying seven days before Christmas 1926 at his home in School Road Tylers Green, he was 90 years old, his wife Maria survived him by two years before her death in October 1928 at the age of 94.  All three lie together in a substantial grave marked with a cross just on the left before you enter the porch at St. Margaret's on the path from Hammersley Lane and in the shadow of the Church to which he had been elected Churchwarden no less than 18 times.
Ron Saunders, Village Voice edition 204, June/July 2021