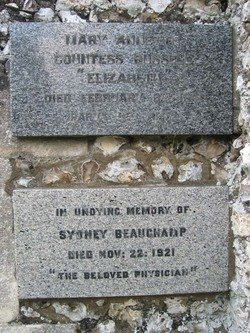 As you walk into St Margaret's Church from Hammersley Lane, you will see two small stone tablets on the far left outside corner of the church, one above the other. The lower one is inscribed 'Sydney Beauchamp, 'the Beloved physician'. The upper one says 'Mary Annette Countess Russell, 'Elizabeth', Parva sed apta'.
Who were they?
Sir Sydney Beauchamp (1861-1921) was a distinguished doctor whose career high point was as the resident Medical Officer to the British Delegation during the peace Conference in Paris in 1919. His local connection was that he built Salter's Meadow in Beacon Hill, in 1902, on six acres of land, the first sold by the Penn Estate to meet death duties after the third Earl died in 1900. He was killed in a street accident in London in 1921.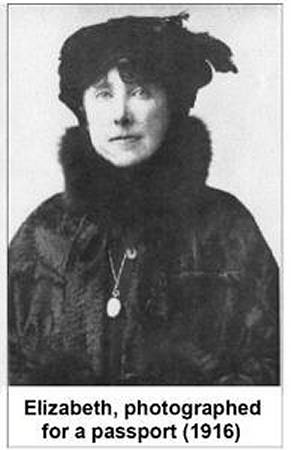 Elizabeth Russell (1866-1941) was his devoted younger sister. She was born Mary Annette Beauchamp and married a Prussian aristocrat, Count von Arnim, in 1891, by whom she had four daughters and a son. She became an overnight sensation when her first semi-autobiographical novel, Elizabeth and her German Garden, was published anonymously in 1898 and was reprinted 21 times in the first year. From then on, writing became a central part of her life and 20 novels followed, all described as 'by the author of Elizabeth and her German garden.'
Her husband died in 1910 and she returned to live partly in England and partly in Switzerland. The First World War trapped two of her daughters in Germany and she herself, also a German citizen, only got back from Switzerland at the last minute using a passport lent by one of her brother's patients. Her other two daughters, born in Berlin and with guttural German accents, had to report weekly to a police station and their Uncle Sinner (Sydney) arranged for them to work as nurses in a London hospital. In 1916, she married for the second time, to the second Earl Russell, Bertrand Russell's elder brother. It was not a success and they separated after three years with Elizabeth seeking refuge with her brother, as she always did in times of crisis, describing him as an angel. He had delivered three of her children.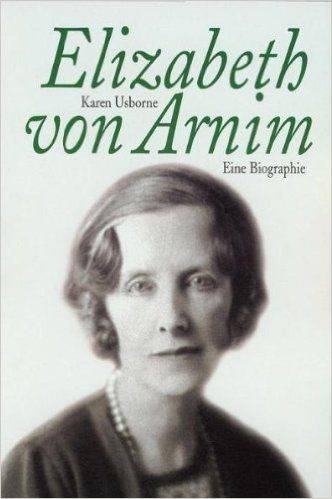 She was a very attractive personality, intensely vivacious with an impish, sometimes cruel wit and a circle of devoted friends and admirers. Her children's tutors included the young E.M.Forster and Hugh Walpole and she had an affair with H.G.Wells. She was close to her children, particularly in her later years and greatly missed her brother after his untimely death. She died in 1941 at the age of 75 in the USA, after catching a cold, and it was not until 1947 that her daughter was able to bring her ashes back to England for burial next to her brother in St Margaret's. She had chosen the inscription, 'Parva sed apta', 'small but capable', which described her precisely.
A final intriguing twist to the tale is that she may have lived at some time in St Margaret's Cottage next door to Threshers (now 'The VILLAGE SHOP on the Green') on School Road. In 1960, when the one large house was split into two by Veronica Papworth, a well-known fashion commentator and illustrator (who lived at Stonehouse in Penn from 1953), she called one Elizabeth's Garden and the other Elizabeth Cottage (they are now St Margaret's and Silvester Cottage). She told me many years later that she had seen Elizabeth von Arnim's name on the deeds and she was clearly convinced of the connection. I have to say that the name is not on any deeds that I have seen, but the house was let for many years and Elizabeth would have been a tenant. Nor, oddly enough, is there any mention of visits to Penn or  Tylers Green in her biography (by Leslie de Charms, Heineman 1958). Her brother also had a flat in London, but it seems very unlikely that she did not visit her brother at his country home.
Miles Green, October 2006